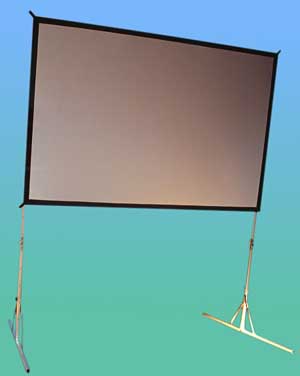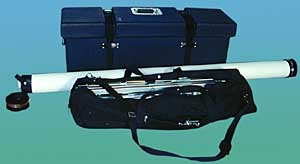 Another STUDIO 3D exclusive. Our 5x7.5' projection screen features the amazing Silver Lining material... It easily snaps to the FastFold frame which can be set up at various heights and at various angles (to eliminate keystoning). The frame quickly breaks down to appx. 36 x 9 x 4" for transportation in the canvas bag and/or hard plastic shipping case.

($1095.00) total weight 60 lbs.

The Silver Lining material is a stretchable, strong, lightweight, washable fabric which exhibits excellent polarized projection characteristics from a wide angle range. Though it can be folded for travel, we recommend it be rolled in it's travel tube as folding can introduce objectionable imprints. We have found, however, that these imprints can be removed with a standard iron.

Material only available @
$5.00 sq. ft.
Currently the maximum height is 60". Samples available on request.