DIGITAL 3D PROJECTION
Dual projectors must be precisely aligned for good stereo
Dual 1920x1080 alignment grid here

OMEGA 3D has been a game changer for digital stereo projection. For years the necessity of a silver screen has made it very difficult to project on the road, as well as incurring the expense of these special surfaces. This new interference technology not only allow 3D projection on any screen, but it's vitually ghost-free!

Optoma TH1060p digital video projectors
1920x1080 (full HD), 4500 lumens each... on adjustable stand with Omega 3D filters.


STUDIO 3D began by setting some standards for digital projection in 2002 (as an upgrade from the "old-fashioned" slide projection). At that time moderately priced digital projectors ran a native 1024x768 resolution (2xga).


INFOCUS LP-530 dlp digital video projectors
1024x768 (xga), 2000 lumens... on adjustable stand with polarizers. SILVER SCREEN must be used for polarized projection!


An active system has the advantage of being able to project on to ANY surface and can be run from almost any PC or laptop (with a page flip enabled video card such as nVidia). Possible for glasses to be "out of range" and lose sync, or to have dead batteries.

Projectors called "3D-ready" are set up for active glasses use.

DEPTHQ HD 120hz active digital video projector
1280x720 (wxga), 2000 lumens. With emitter and IR active glasses.

A ready made setup for dual projection passive 3D is currently being marketed by Epson. We've not seen this in action but it looks like a nice setup.

PowerLite W16SK 3D 3LCD Dual Projection System
1280x800 (wxga), 3000 lumens each. Comes with polarizers and ONE pair of (linear?) 3D glasses.
DIGITAL STEREO PROJECTION
Things are changing fast in the digital world, so solutions are constantly evolving. Our favorite and very simple solution for aligning and projecting stereo stills is STEREO PHOTO MAKER. Another free (or $20 donation) and very powerful slide show solution is MYALBUM which offers fades and other transitions. (Note: be careful with stereo transitions... a vertical wipe won't work, since one image is wiped at a time!). POWERPOINT works, but is somewhat glitchy (there's a new add-on we've not had success with yet). We have also found that PROSHOW can have problems with files larger than 2xga, while PICTURES TO EXE ($49/$75) seems to have no such problems.
LAPTOP PROJECTION
The DualHead2Go is the easiest way to run stereo slides from a laptop. Instant HORIZONTAL SPAN for your dual projectors, which allows for or other slide show programs such as PROSHOW to run (note: We no longer use PROSHOW for creating slide show executables. We've found outputting to video, via 3D friendly software such as Sony Vegas Pro, is much more versatile for utilizing multiple types of projection setups)
You can also use the new EVGA UV Plus that allows a second video out for POWERPOINT shows... with the Tritton you'll need an add on called POWERSHOW, which supports multiple monitors for stereo display
---
COMPUTER PROJECTION
Projection of stereo pairs from a (Windows XP) desktop or portable computer requires a dual head video card with a "HORIZONTAL SPAN" mode. The spanned monitors should be set to resolution of paired stereo images, for example: 2xga (2048 x768). For Windows 7, it's easiest to use the DualHead2Go (see laptop above).
*
---
NOTE about MOVING your STILL IMAGES:

Using the techniques above will allow excellent stereo projection of NON MOVING still images (no pans or zooms). In order to do "Ken Burns style" panning and zooming, we recommend Sony Vegas Pro software, which recognizes various 3D formats of both stills and videos.

DIGITAL IMAGE ALIGNMENT

The best method for alignment (and many other stereo still processes) is to utilize STEREO PHOTO MAKER.
It's a wonderful FREE utility from Masuji SUTO of Japan.
2XGA images for digital projection
In the early days, with xga projectors and horizontal span, images were setup for specific size resolution. With modern software like STEREO PHOTO MAKER any size pair can be projected easily on almost any 3D projection system or 3Dtv. These images show early dual xga setups.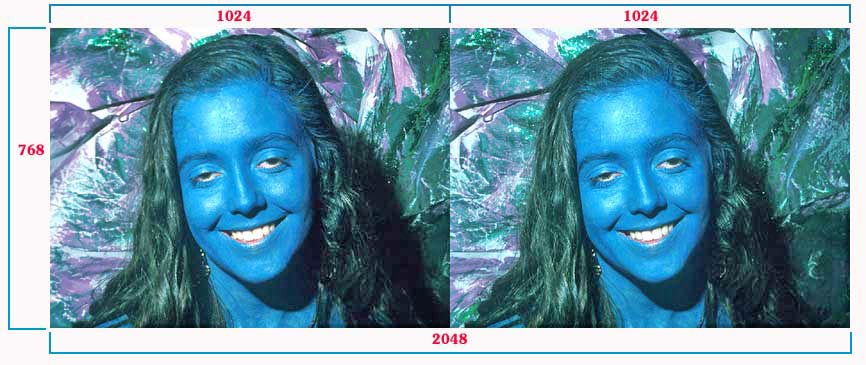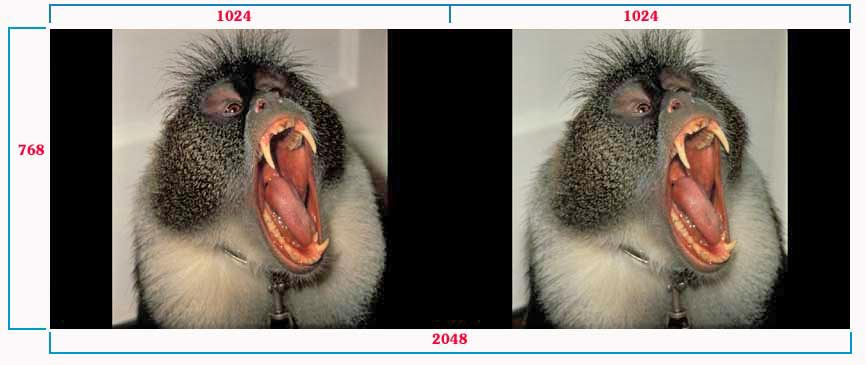 If an image does not fit the xga aspect ratio, the image pair should be set up with the same height (768 pixels) with black added to the sides to fill out the image to 1024 pixels per side.
---
1950 Boxoffice Magazine article calling for 3D MOVIES
---
In ancient times, people projected still images using 35mm transparencies called SLIDES (or "chromes").
The slide mounts were 2x2" square, and the size of the image was 24mm high by up to 36mm wide. For stereo, images were often cropped to 32mm wide (making an image that was "TV" size, with a 3:4 aspect ratio). Two projectors for one stereo image, four projectors allows one stereo pair to dissolve to the other, and back again.
Stereo slide projection has most professionally been done using multiple 2x2 (35mm) projectors. STUDIO 3D has created a number of stereoscopic slide presentations for schools, museums and clubs. Equipment has included:

4 Ektagraphic slide projectors with HotSpot bright lamp housings, on Chief stands
4, 70-120mm or 4, 110-200mm zoom lenses with polarizers
Dataton dissolve unit and Trax digital program (via Mac computer)
Various size silver screens, from 5x7.5 to 10x14.5
---
All stereo pairs are set-up for cross-viewing.
STUDIO 3D stereo slide presentations include:
THE THIRD DIMENSION
an hour-long stereo slide production created especially for the college market, as an overview of the history of dimensional imaging. The show is in four parts:

ANTIQUE 1850-1938 / VIEWMASTER 1939- present / 3D BOOM 1950's / MODERN STEREO Contemporary
THE EYES HAVE IT
a 10 minute stereo slide production produced for The Liberty Science Center in Jersey City, NJ. After several successful years, another copy was generated for the Imaginarium in Ft. Myers, FL (still running!) and The Pacific Science Center in Seattle, WA
POWER OF PEOPLE
special 10 minute presentation for the National Association of Campus Activities
THE 3D SHOW
a 45 minute program designed by Aubrey Productions, Ltd., and toured to grammar schools by Ron Labbe from 1992-1996